ActiveForce Protection Barriers are used to create ATFP entry systems and gates.
Determining the approproiate type of barrier truly depends on a copious amount of factors… This page should help identify your needs and hopefully point you in the right direction to finding the perfect gate/barrier for your application!
Security provided by barriers is available with many different degrees of safety options.
Whether the solution is permanent or somewhat temporary, depends on a facility's unique needs as well as various external factors.  Safety access, value of the secured property, and the risk of intrusion associated within the enclosed area are all essential questions to arriving at your barrier solution.
Barrier systems are built to specific standards set forth by the Department of State (DOS) and meet three levels of security K4, K8, and K12.
Depending on the facility, the level of protection can be increased or decreased by the use of these barrier enclosures.
Active Vehicle Barriers
These create a secure environment by blocking a path or route but open or move to allow passage when necessary. Barriers are considered active when they can be moved to allow access, but keeps unwelcome visitors outside.
Vehicle access control points or entry control points where credentials and/or vehicle contents are checked might require installation of an active vehicle barrier (AVB) at the end of the access corridor.
Drop arm barriers  use a beam extending across the road. Usually the beam, or arm, swings vertically to allow the vehicle to pass, but horizontal swinging versions and telescoping beams are also available.
Retractable Bollards are another common type of AVB. They are frequently used where they are normally in an up position and only need to be operated infrequently.
---
---
Passive Barriers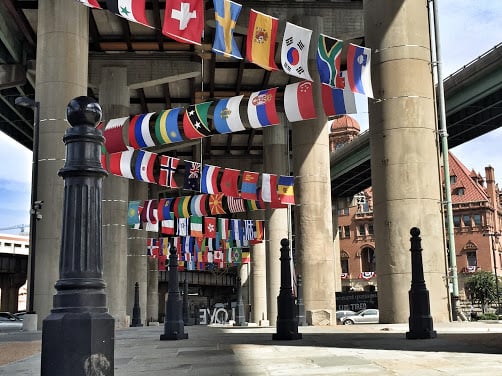 Passive barriers are permanent obstacles that protect a building or property from vehicle interference.
Passive barriers have no moving parts; their effectiveness relies on their ability to absorb energy and transmit it to their foundations.
Concrete walls if properly designed and constructed, can certainly perform well as a barrier. Key elements in the effectiveness of such walls are their height, thickness, reinforcement, and foundation depth.
Terrain can be used as an effective vehicle barrier. It is difficult for certain types of vehicles to pass or traverse ditches that have sufficient width, depth and overly steep side slopes. Berms also can be effective if properly configured.
---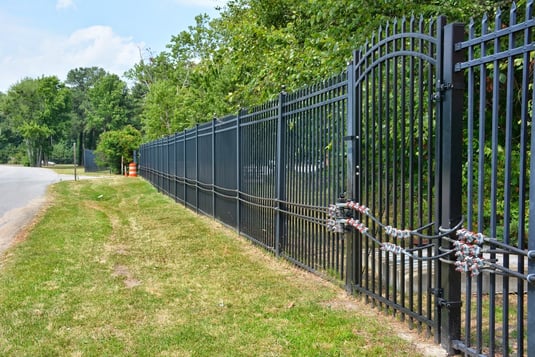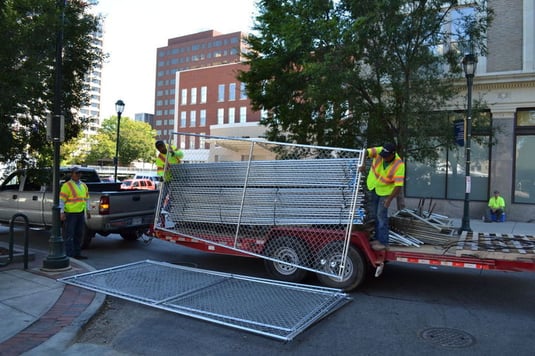 Temporary Fences and Barricades keep the job site or outdoor event enclosed by softly directing foot and vehicle traffic to a designated zone that can be broken down and set up quickly at any location at any point as needed. Typically construction sites use tall movable chain link fences to protect the public from and treacherous sections of a project.
Swing gates designs require a massive steel counterweight (many thousands of pounds) to balance the beam, and a large capacity hydraulic system to move the beam.
Upswing barrier gates  can be used for a variety of commercial applications, including business parking lots, apartments, and traffic control.
Wedge barriers get their name because of their wedge shape when viewed from the side. They are also sometimes called plate barriers because the most common type uses a steel plate angled toward the approaching vehicle. This can be achieved by placing Jersey wall barriers in a way that creates a maze for the vehicle to maneuver.
This effectively forces the vehicle to slow down while permitting clearance.
---
---
Bollards are short, vertical posts used to protect potentially vulnerable structures or objects from damage by moving vehicles.
Designed for versatility, these posts range in size from 24" to 42"in height, and come in variable diameters to meet a location's specific security requirements.
Bollards can be used to maintain a more natural look, while providing crash-rated security.