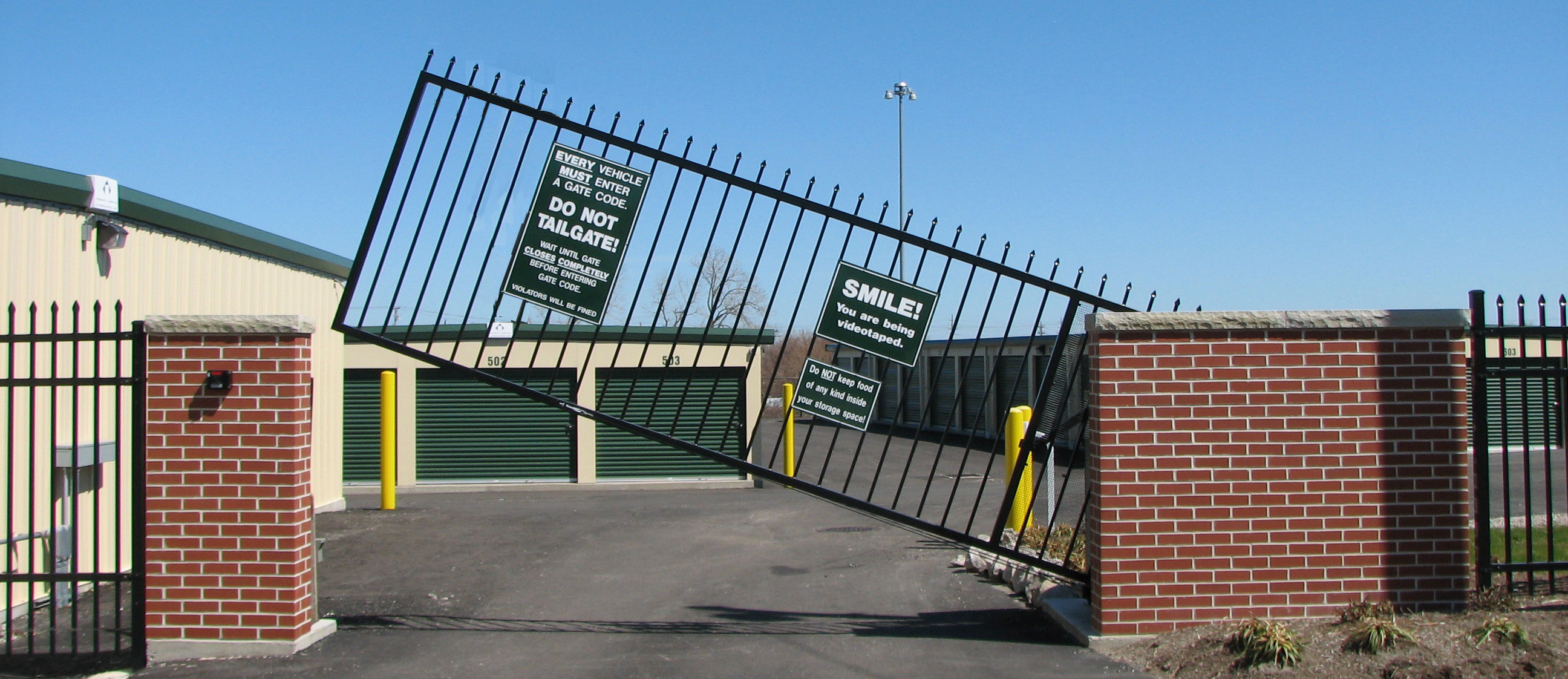 How deep does the pad need to be?
The pad needs to be a minimum of 24" thick, or deeper than your local frost lines. You do not want the pad shifting which will cause the gate to become unleveled.
What dimensions does the pad need to be?
We require a 4' x 7' pad, which is illustrated in the Pad Layout Drawing. The pad can be poured wider to accommodate a workspace in front of the operator doors. This is convenient for maintenance work.
How high should I pour the pad?
The pad is normally poured to grade level of the driveway or road.  You will need to make allowances if the location includes a curb.  Please refer to drawing
#102
What are the electrical requirements for my gate?
All we require a 15 or 20 AMP service.  A licensed electrician is required to run the power from your electrical panel.
After my gate is installed, who will service it?
We have a network of "authorized" dealers around the country.  If one is not in your area, any gate operator installer is capable of servicing your gate.  However, there are some very easy Preventative Maintenance items owners can do on their own such as greasing, maintaining your battery, check you reversing and safety devices.  We also have technical help aids on the website as well as inside service technicians.
My Entrance has a Curb. What Can I Do?
The pad can be poured to curb height. This will put the distance from the bottom of the gate to your driveway at approximately 11". If you require more security, we will curb notch the gate and drop it down to maintain the nominal 5" spacing between the bottom of the gate and the road surface. Please refer to
drawing #151
My Entrance has a Drainage Swale. What Can I Do?
With the proper dimensions, we can fabricate the gate to maintain the nominal 5" clearance across your driveway or road. Please refer to
drawing #120
Does it Matter if my Entrance is on a Hill?
Will the Trees Around my Entrance Affect the Gate?
Our gates pivot 90 degrees when fully opened. If the trees do not impede the opening, they will not pose a problem. The clear area required will depend on the length and height of your gate.
Do I Need to be Mindful of Overhead Wires?
Yes. When the gate is in the open mode, it must not hit any wires. You also need to check with the local utility company to see how far away the gate needs to be from the wires when fully open.
Do I Need to Install Bollards (Protection Posts)?
Bollards are not required, but they will help protect the gate operator from being struck. They can also help to protect the yoke and goosenecks. Please refer to
drawing #100
and
#112
Can I Mount the Operator on Blacktop?
No. The operator needs to be anchored to concrete in order to keep it secured to the ground.
What is a Yoke?
The yoke is the "receiver" that secures the gate when it is closed.   The yoke prevents someone from forcing the gate forward or pulling it back while it is in the closed position.  We have several styles of yokes.  Please refer to
drawing #105
How do I Determine a Left-Handed or Right-Handed Operator?
View your entrance from the "inside" or "private" side.  Determine which side of the driveway you would like your operator to be installed.  Take into consideration the space needed to install the operator.  If applicable, consider the location of existing power conduit lines.
If you will be installing the operator on the right side of the driveway, you will need a right-handed operator.  If you will be installing the operator on the left side of the driveway, you will need a left-handed operator. Please refer to drawing #100-L or #100-R
What Does UL 325 Mean?
The primary focus of UL 325 is pedestrian safety. Contains the basic qualifying factors that products must meet in order to be documented (listed) and marked (labeled) as complying with the requirements of UL 325 Listing and Labeling Program; Provides methods for testing products, primarily related to safety performance; and Covers installation of the products in accordance with the National Electric Code, which is maintained by the National Fire Protection Association and is in force nationwide (UL 325 is to be "harmonized" with this code) and Addresses safety concerning potential fire and electrical hazards as well as the safety of the general public.UL 325 is a safety standard that all gate operators are supposed to be manufactured to meet.
Is a Steel Gate or Aluminum Gate Better?
Unlike steel, aluminum does not rust and is overall a better choice, however aluminum gates are more expensive to produce.  Normally we fabricate gates up to 20' long with steel and use aluminum on gates longer than 20'.  Materials will vary with gates taller then 7' but we fabricate most from aluminum.
How Do I Know What Length of Gate to Order?
The general guideline is to add 2' to the width of the road or driveway you are gating.  For example, a 15' driveway would require a 17' gate.  This allows for setback.  However, the length specification can vary if your gate will be installed behind an existing fence or a wall.  Please refer to
drawing #123
(Righthand) or
#124
(Lefthand)
How Will My Gate be Shipped?
For our standard Vertical Pivot Gate systems we crate the gate and operator separately and ship them on common carrier.  Our Anti-Ram Crash systems "The SHIELD®" and some larger standard gates require a flat bed truck. Customer Pick up is allowed with a suitable trailer.
How Do I Unload My Gate and Set it on the Pad?
The operator will weigh about 1200 lbs when crated and will require a forklift, a bobcat with forks, a tow truck with an extend boom, a backhoe, a gradall, or similar equipment for unloading.
Can I Order a Custom Designed Gate?
Yes. With an approved design, we can fabricate custom gates.
Can I Build My Own Gate?
No.   We fabricate the gates to stringent specifications because of the stress put on gates that rise.  In addition, every gate is custom balanced.  AutoGate may agree to a custom gate if it is built to our specifications and is delivered to our plant for custom balancing.
Why Do I Need a Pedestrian Gate?
UL 325 states that no vehicular gate should be used for pedestrian traffic and that a pedestrian gate shall be made available so as to discurage the use of a vehicular gate.  If your project is totally fenced or otherwise contained, a pedestrian gate should be installed.
What Will Prevent the Gate From Closing on a Vehicle?
Per UL 325 gate operators are required to have entrapment protection devices. External entrapment devices such as photo eye are good devices to detect object near a moving gate panel. Photo eyes are used for pedestrian entrapment protection but they can also add to the qualitative operation of vehicular flow and can have a byproduct to detect vehicles and thus not allow the vehicle to be struck by a gate.
Several devices can be effective in contributing to good vehicular flow.  We commonly use the following:
Photo beam
Contact sensing safety edge
Reflector reversing beam
In-ground reversing loops
How Quickly Will My Gate Open?
Our system opens in approximately 10-12 seconds, which is about twice as fast as most traditional slide gates.
How Do I Keep the Snow Out of the Area Where the Gate Opens?
The area of the operator that the gate pivots into is called the throat. AutoGate offers heat mats that are placed in this area and draw power from the incoming electricity to the gate operator. They are thermostat controlled to activate based on lower temperatures. As snow makes contact with this mat it melts due to the mat being several degrees above freezing.
Since the gate is about 7" off the ground in the open position, the gate will operate with several inches of snow in the throat area without the use of a heat mat.  In addition, as the Vertical Pivot Lift opens, it will compact some snow in the throat area. Some general snow removal will be required if the snow accumulation in the throat area impacts the opening operation.
Will This Gate Work in Sub-Zero Temperatures?
Yes.  We have several accessories and heat packages available for areas where sub-zero weather is common.
How Long Will My Gate Stay Open?
The "Hold Open" time can be adjusted from 0 to 60 seconds.  Your "set" time begins when all reversing loops have been cleared by vehicles.
Will the Gate Run on Solar Power?
Yes.  However, solar power limits the number of cycles per day.  Most commercial applications will require AC power. Sites with limited daily use can be solar.
You need to be aware of the area around the gate and consider the amount of trees, the geographic location, and the number of average hours of sunlight.  Please call us and and we will help you determine the specific needs.
Will My Gate Function if the AC Power Goes Out?
If you lose AC power, the gate will continue to operate on battery power only.  The size of the batteries, the current amperage draw of accessories, and the number of cycles will determine how long your batteries will last before the gate stops working.
Our operator has an AC power "ON" indicator on the outside of the cabinet.  If the light is out, the AC power is off and you need to check your circuit breaker and determine the problem.
Typically, the gate will function for about 24 hours when you are using the two recommended 100 AMP deep cycle marine batteries.  Even when the batteries go completely dead, the gate can be opened manually.
How Do I Manually Open the Gate?
There is a manual release lever located under the motor that releases the belt tension and will allow you to open the gate manually.  Normally one person can accomplish this.   In the rare case of a spring failure, it may require two people.
What Type of Routine Maintenance Can I Expect?
There are several grease points on all the major moving parts.  The grease points should be serviced at least yearly.   Depending on the number of cycles your gate is operating, the grease points may need to be serviced more often.
A periodic check of all reversing devices and belts is recommended to make sure they are all functioning properly.  Please refer to AutoGate's Installation and Operation Manual for specifics.
Batteries should have any corrosion cleared from the terminals.  If the batteries are not sealed units, water levels should be re-filled to recommended amounts.
Do I Need Spare Parts on Hand and What is Recommended?
There is no requirement for spare parts. For the first few years, you should not need anything.  However, circumstances do arise and parts do fail for various reasons (defective, lightening strikes, general use, etc.).  The parts listed below are the most common parts that may have to be replaced:
Spring
Belts
Control Board
Loop Detector
Photo Eyes
Battery (normally not supplied by AutoGate)
How Deep Should I Set My Posts?
Posts need to be set in adequate concrete and below local frost lines.  A minimum 3' depth is required to achieve proper stability and trouble free service.
Can I Mount the Gates on a Pillar?
Yes, providing there is an adequate support structure in the pillar.  This could be a post set inside the pillar with standoff plates to weld the hinges on or a concrete filled wall and heavy duty concrete anchor bolts.  The gates cannot be mounted on stone or brick veneer and we do not recommend mounting to hollow block.
What is an Entrapment Zone?
If a swing gate opens into a pillar or against a fence or wall, it creates an entrapment zone.  Someone could be pinned between the gate and the wall, pillar or fence.  UL 325 mandates you leave enough room so an entrapment zone is not created when the swing gate opens.  If the site will not allow for this, you must install a reversing/stop accessory to stop the gate if there is an obstruction.
How Quickly Will My Gate Open?
Swing gates open in about 12-15 seconds.
My Entrance is on a Hill, What Can I Do?
Swing gates can be mounted on a driveway with a hill as long as they will be swinging away from the hill.  On a slight hill, some hinges will tolerate the slight increase.  If the gates need to swing out toward the public side or the street to accommodate the hill, you need to make sure you are not blocking a road or sidewalk.
How Much Room Do I Need For the Gate to Slide Open?
Cantilever style slide gates are 1.5 times the length of the opening. For example, a 20' gate across your driveway is actually 30' long.  The tail section is 10' long and the gate needs to slide another 20' from there.
V-Trac gate tails are normally less then 4' and therefore don't require as much room as a cantilever.  V-Trac slide gates are only recommended in areas where there is no snow.  A V-Trac gate rolls on top of an inverted angle installed across the drive and will become misaligned and/or dislodged if hit by a snowplow.
Can I Mount the Operator on Posts?
Some operators are designed to be mounted on or between posts while others are designed to be mounted on a concrete pad poured below the local frost line.
How Quickly Will My Slide Gates Open?
Most applications require a slide gate to open no more then 1' per second.  A 20' slide gate will take 20 seconds to fully open.
Why Do I Need Safety Screen on my Picket Gate?
ASTM F2200 requires protective screen or chain link fabric at least 6' up on all gates.  WARNING: This includes the ENTIRE gate panel, not just the gate that is over the driveway.  A sphere greater than 2 ¼" is not permitted to pass through the protective screen fabric.
Which is Better, Cantilever or V-Track?
It depends on the geography where the gates will be installed.
V-Trac gates do not work well in snowy areas.  Cantilever gates will work in most locations.  Cantilever gates give you a clear opening, whereas V-Trac gates have an angle going across the driveway that can become a maintenance issue if the angle is misaligned in anyway.
Either gate can be a maintenance problem if they are hit and bent.  V-Trac's can skip off the track and Cantilever's can bind up in the rollers.
What is the Difference Between a Mag-Card and a Prox Reader?
A Magnetic Card Reader reads cards that have a magnetic strip on them.  The cards are similar to a credit card.  A Proximity Reader or "Prox" reader will read a card or a key fob with a chip in it.  The card or key fob does not need to touch the Prox Reader; it just needs to be within "proximity" of the reader.
What is a Loop?
A Loop is a coil of wire which produces an invisible field that is powered by and connected to a loop detector.  When the inductance field is disrupted by larger metal objects (cars) the detector senses it.   Loops can be either "Saw-cut" style or "Pave-over" style.  The difference in the styles is explained below.
What is a Loop Detector?
The Loop Detector is what powers and activates the loop in the driveway.   Normally Loop Detectors are used for "Reversing" or "Free Exit" functionality.  Reversing will stop a gate from closing and "reverse" the gate back into the open mode.  The Free Exit function will automatically "open" a gate allowing a vehicle to exit the property.
What is a Saw Cut Loop?
Saw-cut loops are preformed loops with stacked and sealed wire.  This style of loop is placed in 1 ½" cut made in either blacktop or concrete.  The cut is then sealed with crack filler.
What is a Pave - Over Loop?
Pave-over loops have a protective cover around the wire and can be buried in stone, sand, or dirt.  Once properly installed, these loops can then be paved over with hot asphalt.
What is a Reversing Beam?
A reversing beam is a reversing device similar to a reversing loop but uses a beam instead of a loop for activation.  When the reversing beam is broken, the gate will reverse back to open mode.
There are two standard beams types.   One beam type uses a transmitter and receiver as individual components that both require power.  The other beam type is a reflective style that functions as both a transmitter and receiver in a single unit. This style utilizes a reflector to send the beam between the transmitter and receiver within the single unit.
What is a Miller Edge?
A Miller Edge is another type of reversing system.  The Miller Edge is mounted on the edge of a gate, post, or wall.  The Miller Edge must have  contact with an object before it will activate to reverse or stop the gate.  There are several types of Miller Edges to suit most fabricated gates.
Where Should I Mount My Gooseneck?
A gooseneck houses keypads, proximity readers, telephone entry systems, or other access controls.  We recommend the gooseneck be positioned at least 15' from your gate. Please refer to drawing #111 and #112
What is an OPTICON?
An OPTICON is an emergency sensor used by Police and Fire Departments.  The OPTICON senses strobe lights and will automatically open a gate during an emergency.
What is an SOS, (Siren Operated Sensor?
An SOS is an emergency sensor used by Police and Fire Departments.  An SOS system senses the audible emergency "yelp" and will open the gate.
What is a Firebox/Fire Key Switch?
Used by the Fire and Police Departments, these boxes contain a switch that will open the gate and allow it to be locked in an open position.  The keys to these units are usually registered through the local Fire Department.
What is a Click-2-Enter System?
The Click-2-Enter system is an emergency entry device that recognizes emergency radio frequency.   This system allows emergency personnel to enter a secured facility or community silently.
What Options Are Available For Opening a Gate System?
Radio Transmitter & Receiver
Several styles and models are available.  This access control device is commonly used to open garage doors.
Keypad
Several styles are available with various features.
Proximity/Card Reader
Several styles are available with various features.
Free Exit Loop/Free Entrance
Allows a vehicle to enter or exit by metal detection.
Telephone entry
Several styles are available with various features.
Intercom
Several styles are available with various features.
Pushbutton
A pushbutton is a simple way of controlling the gate.  The button can be mounted anywhere.
24/7 Time
A 24/7 timer allows your gate to automatically open at a specified time and automatically close at a specified time.