Why Should I Consider a Vertical Pivot Gate?
Automatic gates and fencing are a cornerstone of perimeter security. For commercial and industrial buildings in particular, slide gates are quite common. But there is another style, Vertical Pivot Gates (VPG).   VPGs are automatic vehicular gate systems that open and close with the same motion of a railroad crossing arm. They are considerable security, safety, and space saving advantages compared to sliding gates.  VPGs have been in production for over four decades, and the ease of pivot gate installation reduces the need for highly experienced installers and substantially eases the burden on specifers during project design and construction phases.   This article covers several important reasons to select VPG over a slide or swing gate system.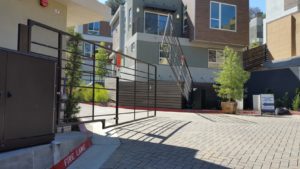 Vertical pivot gates offer space savings, as seen in this upscale Los Angeles condominium site. Placed at a 90-degree turn, the system secures residents and will not consume valuable rental or parking space.
Why choose a VPG?
Understandably, anything new raises questions and may give pause to changing our buying habits.  Change occurs when the value drivers are met, and advantages are recognized.  Key advantages of VPGs are their speed to process vehicles, reduced areas pedestrians can be injured, reduced issues with problematic functionality, increased security features, and certainly lower cost of ownership.  VPGs are made custom to your site needs.  They deliver the common need of security and processing vehicles like other gates.  However, VPGs are tailored to many details and desires needed in the project.  This occurs without having to rely on experienced subcontractor solutions, having to accept a product that limits or fails to meet the owners expectation, or requiring additional scopes of work for the project.   Vertical Pivots deliver simplicity and solution to common problems that typically broaden the scope and cost of a project.  The VPG is simply that versatile of a product.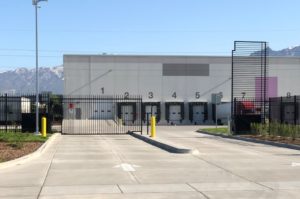 Vertical Pivot Gates can easily cover over curbs and non-level conditions under the gate.  Each gate is made to fit the site in all relevant dimensions and desired or existing conditions.
What problems do VPGs fix? 
They fix a set of common denominators like bad installations and cutting corners due to negligence or ignorance.  VPG manufacturers produce both the operator and the gate panel.  They ensure the gate is not only fabricated to gate safety standards but also construct the gate to match site aesthetics and thoroughly test the operation of the system before it ships.  The system arrives to the owner's site nearly ready to operate.  Manufacturers of slide gate operators and swing gate operators do not fabricate the gate panels that attach to the operator.  Slide and swing gate operators are manufactured and placed in boxes and stored in warehouses until ordered.  Typically, the gate panels are made by a local fabricator who you hope knows at least some details of the project and the safety standards required for that gate system.  The specifier and the owner are completely reliant  on the installer to know, understand, and meet safety standards and project specifications.  In contrast, VPGs are ordered in a collaborative fashion by quickly exchanging information on material dimensions, safety features, operational qualities, electrical requirements, and optional accessories.  This ensures less issues from the installer error, incompatible components, quality shortcomings, deviation from specifications, and increased owner satisfaction.
VPG's are the most adaptive gate system for access point conditions, particularly those that challenge designers and manufacturers of other gate systems.  Some challenges include working around curbs, road elevation/contour changes, drainage swales, etc.  This is because the VPG gate panel is fabricated specifically to conform to desired spacing when closed over site conditions.  Slide gates do not have this ability causing both aesthetic and security issues because they cannot conform to the site.  Slide gates cannot match grade changes and often leave unsightly gaps inviting security breaches.  Pivot gates can easily meet rigid security standards such as DoD standards in which the bottom of the gate panel shall not exceed 2" above drive grade.  By closing over the site curbs and drive elevation changes the gate is simply made to fit like a glove in all aspects.  Slide gates require the installer and owner to design the site to compensate for what a slide gate cannot do.
VPGs open and close much faster than slide and swing gates.  This delivers a faster vehicular processing speed and greater volume of traffic at access points.  Slide gates commonly open and close at 1' to 1.5' of gate length per seconds while VPGs commonly open or close in 8 to 10 seconds.  By having a pivot point the length of gate does not affect the time it takes for a pivot gate to open.  Realistically, a slide gate can only process about one vehicle a minute while VPGs can process 2 or 3 per minute.  This is important in high volume or peek traffic locations and situations.  Slower gates encourage tailgating; occurs when trying to follow other vehicles through a gate without using access control systems and often leads to security breaches and accidents where the gate is hit and vehicle damage occurs.  A common saying in the gate industry is "it's not if a gate will be hit, it's when."  Slide and swing gates are attached to fence lines and support posts.  This means more is damaged or destroyed than just the gate on impact.  Slide and swing gate operators, posts, and the adjacent fence line are damaged or destroyed as well.  This damage compromises the use of the access point and is far more costly to repair.  Conversely, VPGs have gates that are secured to the operator and designed for only the gate to be damaged.  In fact, most gate strikes do not shut down the site and are quickly repairable back to the original aesthetic and quality prior to the impact.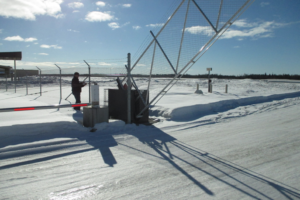 Vertical Pivot Gates do not need to track through the snow as shown at this Air Force Base in Alaska.  This ensures the gate will not only be able to open but not burden the operator or safely compromise the gate system due to adverse conditions.
Automated Gate systems are governed by two safety standards: UL 325: Standard for Door, Drapery, Gate, Louver, and Window Operators and Systems and ASTM F2200: Standard Specification for Automated Vehicular Gate Construction.  Both standards are required in Fire and Building codes.  Both standards focus on pedestrian safety around a gate system.  Pivot gate systems have substantially less entrapment areas and less danger points than do slide and swing gates.  Slide gates in particular require extensive mitigation of areas a person can be injured or entrapped.  Unfortunately, many installers know this and is a common issue of either ignorance, negligence, or laziness to promote safe operation.  It can be a cost control mechanism to help win a bid or a corner cutting solution to ensure the gate opens and closes regardless of safety concerns.  In either case this exposes pedestrians to injury and the specifier and owner to liability if there is an incident or death.  Because slide gates are attached to posts, columns, or other structural devices they create numerous pinch points and areas where a person can be struck, pinched, or pulled into areas between a moving gate and a fixed object like a post, fence, or column.  Slide gates cover much more area to fully open and close.  Slide gates require extensive space to accommodate the full length of the gate panel at any point of being open, closed, or moving.  Pivot gates move the gate panel up and away from anywhere pedestrians can be and require far less space to operate than slide gates.  Additionally, Pivot gates and operators are manufactured together, ship together, and arrive with minimal remaining tasks to complete the required UL 325 & ASTM F2200 safety standards compliance and other accessory installation.  Much of this work and assembly is conducted by the manufacturer ensuring proper operation and configuration.

Urban placement of gate systems is often challenged by space availability to open and close and can compromise pedestrian safety or security issues.  This inner-city Vertical Pivot Ornamental Gate offers the aesthetic desired while prohibiting someone from climbing under the gate due to curb notching. 
There is significant importance in what it takes to keep a gate system functioning properly.  This is tied directly to both safety and total cost of ownership.  Ultimately, all gates systems are machines and require maintenance.  A significant advantage of a Pivot gate system is that the components that operate gate are inside the operator and protected from the elements.  Some components of a slide gate are inside the operator, but several key components remain exposed and need adjustment and maintenance to remain in qualitative operation.  Unfortunately, the most common time maintenance and adjustment occurs is at or following issues and breakdowns.  External to slide gate system are the safety or entrapment protection devices such as photo eyes, contact sensors, and the chains or rail needed to move the gate.  Slide gate systems require many more entrapment protection devices than do Pivot gates.  As such, many more potential weak links are built into the system and will require attention and upkeep.  Slide gates often have issues associated with chains and drive rail systems.  Environmental factors, along with daily use, can cause failures and limitations in opening and closing slide gate.  The drive chain must be lubed, tensioned    correctly, and kept free of  debris and ice or you reduce the chain and operator's life.  Each operator manufacturer has its own specs on how to tension the drive chain which is often ignored.  Slide gate operators that use rail attached horizontally along the gate to grab and drive it open and closed have known issues.  The rail must be kept free of debris, ice, and remain securely attached and in proper alignment with the operator.  The wheels that drive the rail must be maintained, tensioned, and adjusted often or it will lead to operational and safety issues requiring a gate technician to restore the system to proper configuration.  This can be quite expensive and repetitive.  Again, the Pivot gate system is fully produced by the manufacturer.  It leaves the factory ready to operate, gate matched to the operator, and tested to avoid issues of improper installation.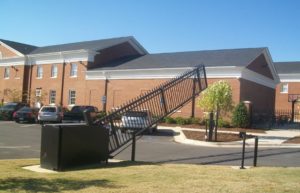 This fraternity at the University of Alabama uses a Vertical Pivot Gate to control access for residents while not comprising surrounding aesthetics and provides a reduced path of interference with pedestrians. 
What are your next steps in specifying a vertical pivot gate system? 
Contact AutoGate.  We are experts in assisting in project design and assisting with any technical questions and integration.      Common items often covered in the exchange of information are:
– Size of the gate panel desired or if there any special materials for gate construction
– Geographic considerations to determine certain accessory options (extreme cold, wind, etc.)
– How you intend to control the gate and who uses it (employees, truck traffic, etc.)
– Types of vehicles, are there are any emergency access provisions needed for first responders
– Applicable security standards or project requirements that impact the design of the gate
After this exchange of information we will assist and collaborate on all your design needs to ensure the gate system that arrives on site exceeds the needs of the vehicle access point.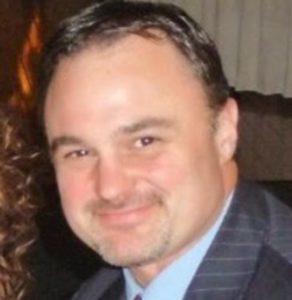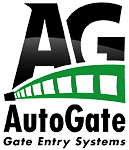 Written by Brain Fritz, CAGOI – AutoGate, Inc.
As VP of Business Development, Brian Fritz has strong experience in the Perimeter and Physical security industry.  Daily focus on Critical Asset & Physical Security Solutions. Focused on multiple vertical and    horizontal markets: DOD, DOS, DOJ, Customs & Border Patrol, Chemical/Petro-chemical, Power Generation, Airports/FAA, Project Design/Specification, and many other public & private organizations.  Here he looks at the advantages of Vertical Pivot Gate systems regarding vehicular control, security, and safe operation.