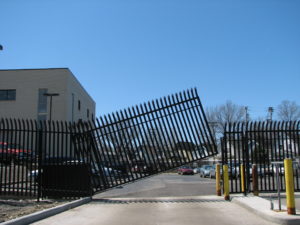 Automatic Gates:  The misunderstood perimeter security challenge.
Don't be naive about crime and advantages of perimeter security.  Many security plans are designed to meet an intent of regulations or laws governing security.  Security products are numerous and have tons of marketing collateral to entice the buyer.   Which have the value or product features you need?   Protection of your business' physical property is still of paramount importance.  How do you best control vehicles?  What type of tracking and permission capabilities are you going to use?   Perimeter gates are used to protect against a variety of vehicle and personnel threats.  They control your entry and exit points.  You should have strict visitor and employee identification and tracking protocols.  Your facility will have trucking, employee, and visitor traffic to contend with daily.  Each is unique in the amount of vehicle flow, size of vehicles, frequency of use, and the demand they place on security gates.
Security gates are designed to accommodate various requirements including size and type of traffic, speed of traffic, and style of facility.  Gates need to operate in all types of weather.  Owners and managers of facilities only care about one thing regarding gates; either the gate did what they wanted or it didn't.  Nobody cares if it was the gates fault or anything else such as access controls, maintenance faults, or a power flickers.  Security is security and the darn gate just needs to work.  Is there more you need to know about gates?  Absolutely.
Security does not generate revenue, it costs you money.  That's obvious.  Commoditization of security products is a common routine many fall into.  Gates are no different than other security equipment you need.   Commoditization is the indistinguishable qualities or attributes (uniqueness or brand) that end up becoming assumed to be common to all gates.  How do you know the gate you buy will be safe, perform well in the cold or snow, won't be a maintenance cost drain, or can keep up with heavy use?  One thing you do know is that when a gate fails to work it can be a serious imposition or security issue for your facility.
Good vehicular control point design is important.  You will be stuck with your decision for many years to come.  Part of gate selection is the quality and operational performance.  Another part of gate selection is following what is mandated in Fire and Building Code; gate safety standards.  Gates are to be fabricated and installed uniquely to your site.  ASTM F2200 addresses automatic gate construction and safety.  The gate operator is to be tested to and UL 325 Listed.  UL 325 addresses the safety related each operator and accessories wired to it.  Unfortunately most installers either fail to follow these standards or are simply unaware of how the standards apply to their installations.  This leads to countless instances of gate damage, vehicle damage, and most importantly pedestrian injury and death every year.  The cost, security concerns, and liability can be addressed by selecting a quality product and good installer.