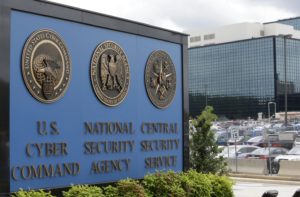 Authorities say they have found a man who crashed a stolen car into the fence around Fort Meade in Maryland and then fled onto the campus, which is home to the National Security Agency.
Anne Arundel County police and Fort Meade officials announced Thursday morning that the man was found trying to hide in the woods.
Police say officers stopped a stolen car Wednesday night, but the driver sped off, leading officers on a 4.5-mile pursuit. Lt. Ryan Frashure says the car crashed into the fence near an unmanned Fort Meade gate and the driver ran onto Fort Meade property.
During the 12-plus-hour search, Fort Meade functioned on reduced operations, residents were warned to stay indoors, and six schools closed.
The incident came six months after NSA police shot two people who ignored orders to turn around a stolen SUV at a security gate, killing one.
Read more: Police seek suspect after stolen car crashes at Fort Meade